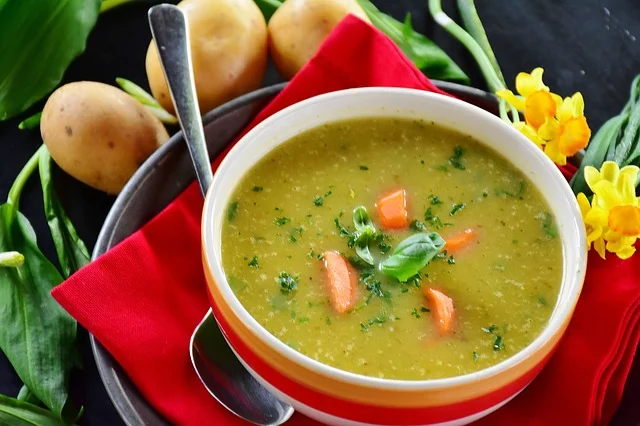 Vegetarian soups every day, Vegetarian soups are calming to the senses. They ought to be carried out mindfully. The act of cooking is just as vital as the finished product. Like in other Vedic cuisines, ghee (sweetness and goodness) and spices are essential ingredients (a variety of flavors, vitamins, and trace elements). We prepare oils for all Ayurvedic recipes by frying spices in ghee. Onions and garlic are not used in the recipes. Asafoetida, a spice, takes its place in flavor.
Vegetable soup-puree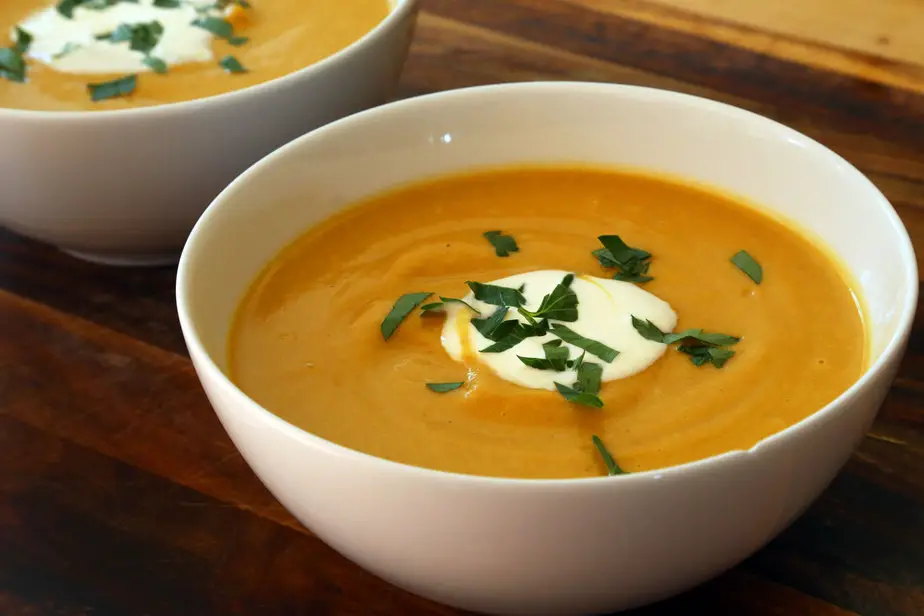 Ingredients
350 g of vegetables, 0.7 liters of water, 1/4 teaspoon of black pepper, 2 tablespoons of flour, 150 ml of hot milk, herbs, and Shambhala leaves. 3 tablespoons of melted butter, 1 bay leaf, and 1/2 teaspoon each of coriander, turmeric, and asafoetida (according to optional).
Instructions
Spices should be fried in ghee before being added to chopped vegetables (potatoes, carrots, cauliflower, and other vegetables, if desired). After a brief period of frying, add water. Mashed potatoes are combined with cooked veggies.
Fry some flour, dry or in oil, then add it to the milk and combine (this is a thickener). To the vegetables, add milk. Use a blender to blend it into a puree. You can add cubed Adyghe cheese to the soup to add weight.
Summer soup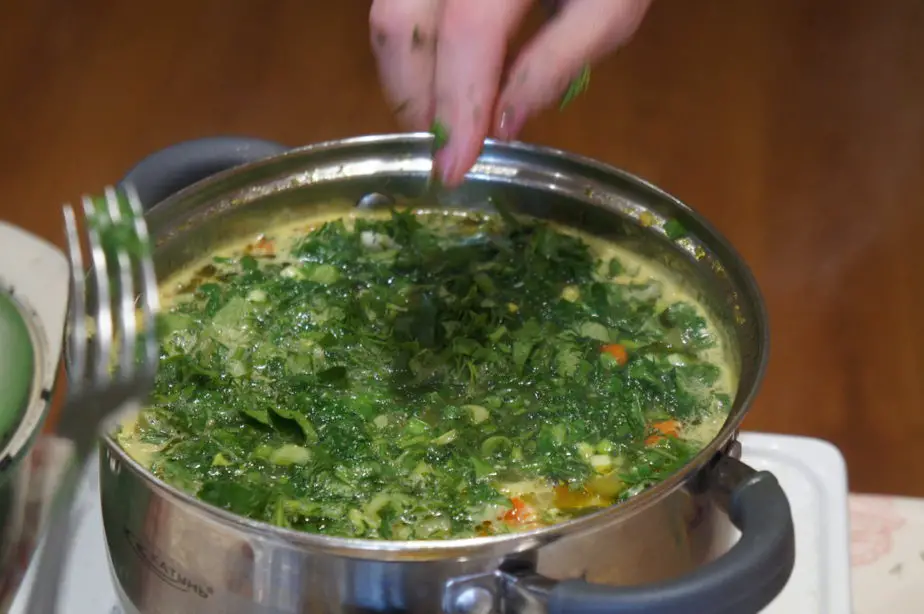 Ingredients
2 tbsp ghee, optional cardamom and nutmeg, 1/4 tsp asafoetida, 1/4 tsp fennel, 1/4 tsp cumin, 1/3 tsp coriander, and 1/2 tsp turmeric 400g of veggies, 1 liter of water, 200g of kefir (sour cream), and 100–200g of greens (spinach, beet leaves, nettle, sorrel, hogweed, parsley)
Instructions
We prepare mashed potatoes by cooking and mashing potatoes. Separately, we stew additional veggies with seasonings (tomatoes, peppers, carrots, etc.). Vegetables and potatoes should be combined. Kefir should be added. Add fried Adyghe cheese if you'd like. The greens should be added last.
Nadia Soup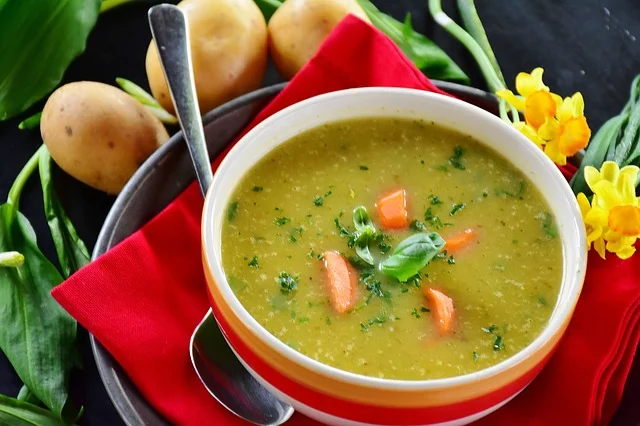 Ingredients
0.6 kg of vegetables (beets, potatoes, etc.), 1 tablespoon of ghee, 1 teaspoon each of coriander, turmeric, Kalinga seeds, ginger, and chili pepper, optional; 2 cups of water; 1/4 teaspoon each of cumin and black pepper; 1/8 teaspoon each of bay leaf; 1 tablespoon each of lemon juice and sugar; herbs.
Instructions
Beets should be cut into cubes and boiled. then cook after adding the remaining vegetables. Add ghee-fried spices to boiling vegetables. In a blender or mixer, the soup can be blended into a puree. Add optional sour cream, Adyghe cheese, lemon juice, and herbs.
Tomato seasoning
This flavorful spice can be made in a glass jar and used in various vegetarian foods. It is aromatic, full of taste, and high in energy (rice, legumes, vegetables).
Ingredients
8 ripe tomatoes, 1/3 cup water, 2 tablespoons ghee, 1/6 teaspoon asafoetida, 1/3 teaspoon chile, 1 tablespoon freshly grated ginger or 1 tablespoon dry ginger, 1 tablespoon cumin, 5 cloves, 2 bay leaves, 1 cinnamon stick 5 cm, salt, and sugar to taste.
Instructions
Remove the peel from the tomatoes. We lower them into hot water for a brief period of time to do this. tomato cubes should be cut. Add tomatoes after frying the spices in ghee. cinnamon, bay leaf, salt, and sugar; simmer. The paste should now be in a glass jar.
Rice soup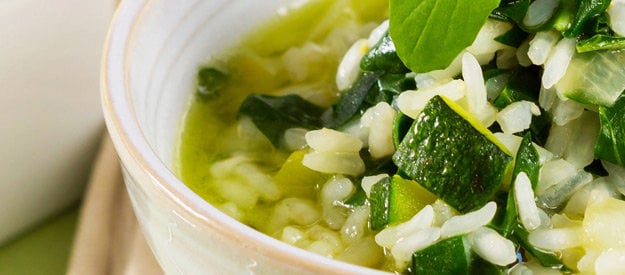 Without using potatoes, this nourishing soup is created. Take rice instead of potatoes.
Ingredients
1l. 1 tablespoon of water rice, 300g. veggies, 3 tablespoons (excluding potatoes): bell pepper, zucchini, cabbage, etc. the following ingredients: ghee, asafoetida, cumin, sweet black pepper, bay leaf, optionally three fresh tomatoes, salt, root, and parsley.
Instructions
Prepare the vegetables and rice. The completed soup is garnished with ghee-fried spices. You can add sour cream and Adyghe cheese that has been spice-fried to the soup to make it thicker (or not fried).
Apple chutney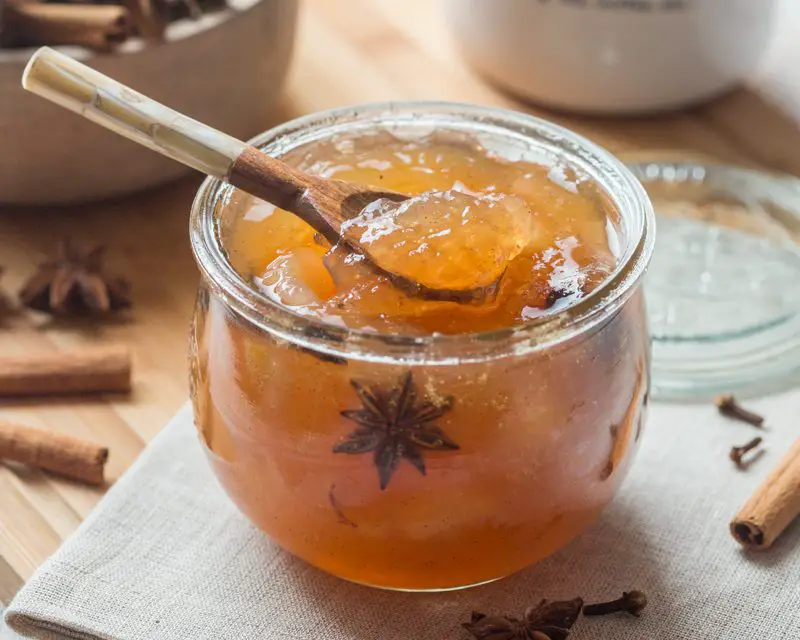 The most frequent accompaniment to this odd dish for us is rice. It should be extremely sweet and spicy. By getting to know others with strange likes, we broaden our consciousness. It comes out very well!
Ingredients
1 kilogram of apples (seven and similar varieties), 4 tablespoons of ghee, 2 teaspoons of fresh ginger, 2 cinnamon sticks, 1/4 teaspoon cardamom, 1 teaspoon fennel seeds, 2-3 red pepper pods, 5 cloves, 1 teaspoon turmeric, and 150 grams of sugar.
Instructions
Toast the spices (except cardamom, add it at the end). Apples should be cut into cubes and fried until they are soft and crumbly before adding salt, sugar, and other seasonings.