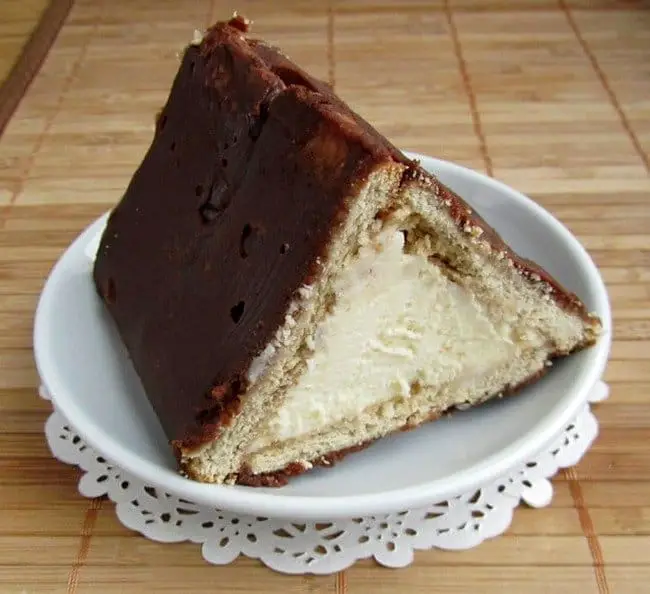 Composition:
| | |
| --- | --- |
| Shortbread – 500 g | Butter-250 g |
| Fat cottage cheese-350 g | Honey – 2/3 art. |
| Vanillin | Cocoa-30 g |
| Seasonal fruit (peaches, bananas, strawberries) – 50 g | |
Preparation:
RUB the softened butter (100 g) and 1/3 of honey until smooth and smooth. Gradually add the cocoa powder. Put the finished mixture in the refrigerator.
Fat cottage cheese, the remaining butter and honey, vanilla beat in a blender until smooth.
Add the remaining butter (150 g), vanilla sugar, and granulated sugar (50 g) to the curd, and RUB until smooth. To taste, you can make the mass sweeter by adding more honey.
Spread out a sheet of foil, and top with a layer of baking paper on a flat surface.
Put three rows of cookies on five pieces in a row, leaving a gap between the rows of about 5 millimeters.
Mark the borders of the rectangle with a simple pencil-apply chocolate paste to this place, leveling it with a knife. Then lay out the cookies. Only on the middle row evenly put 2/3 of the curd mass. In the center along with the curd, place the fruit cut into pieces, put the remaining curd mass on top.
Now take the edges of the foil and, lifting them, form a tent. Wrap carefully on all sides and refrigerate for 10-12 hours or overnight.
When ready to expand, sprinkle with cocoa before serving.
Have a nice meal!
Om