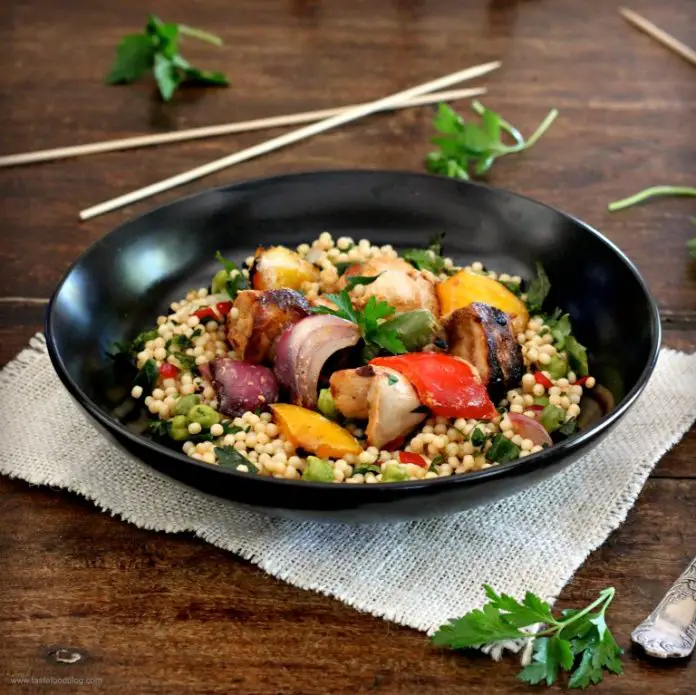 Couscous cereal, familiar in the Mediterranean countries since ancient times, has come to our cooking relatively recently. Useful properties and versatility of use contributed to its rapid introduction into our diet.
The caloric content of couscous is relatively small: 100 g of dry cereals contains 370 kcal, and in boiled form – only 112 kcal.[i]
The chemical composition is mainly represented by complex carbohydrates, which are absorbed rather slowly, creating a feeling of satiety. The fiber of cereals is involved in the following important processes:
restoring healthy intestinal microflora;
normalization of intestinal motility;
elimination of slags and toxins;
cleansing the intestines of heavy metals.
Composition:
| | |
| --- | --- |
| Couscous-200 g | Zucchini – 1 PC. |
| Tomatoes – 4 PCs. | Hard cheese-100 g |
| Bell pepper – 3 PCs. | Purple Basil – 3 sprigs |
| Parsley – 3 sprigs | Vegetable oil-1 tbsp. |
| Black pepper-1/2 tsp. | Salt |
Preparation:
Preheat the oven to 180C. Clean the sweet pepper from the seeds, cut into pieces, also cut the zucchini, add salt and pepper, and bake in the oven for 25 minutes. Pour boiling water over the couscous, cover, and let stand for 5 minutes. Cut the tomatoes, dip them in boiling water, then in cold water, remove the skin and cut into pieces. Mix the vegetables with the couscous, season with vegetable oil, and finely chopped herbs.