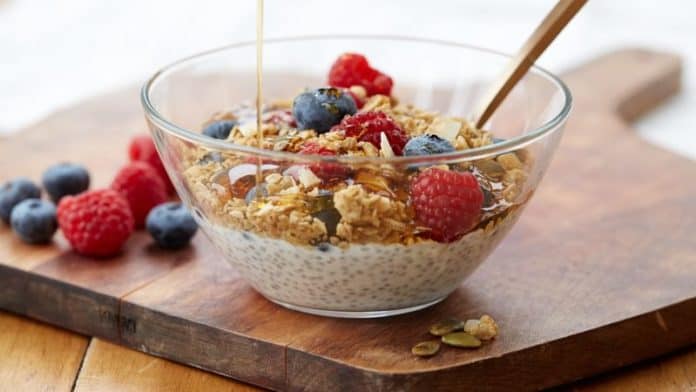 Oatmeal Chia pudding is a healthy dessert. Chia seeds are a real superfood. They are so rich in vitamins, minerals, and trace elements that many attribute their magical properties. It is believed that this product strengthens the immune system, helps fight diseases, promotes health and rejuvenation of the body. The most surprising thing is that experts agree with this opinion. And according to nutritionists, chia seeds are indispensable for those who want to lose weight. Their use not only helps to suppress appetite but also contributes to faster weight loss. Oatmeal Chia pudding is useful.
Oat flakes-50 g, Cold water-500 ml, Honey-2 tbsp, Chia seeds-3 tbsp, Banana — 1 PC,
Kiwi – 1 PC,Raspberries-20 g,Strawberry-20 g,Blueberries-20 g,Mint for decoration.
Preparation:
Pour cold water over the oat flakes. Let the oatmeal stand for 15 minutes with water, then chop it in water with an immersion blender. It turns out a thick substance like cream. Add the Chia seeds, stir and let stand for a couple of hours at room temperature, or leave overnight in the refrigerator.
The seeds will absorb the liquid and swell, and the liquid will turn into pudding. Peel the banana and chop it into a puree with a fork. Add honey and banana puree to the pudding and stir. Cut the strawberries and kiwis into thin slices, put them in glasses, pressing them against the wall, then carefully pour the pudding into the glass. Top with remaining fruit and mint leaves.
Have a nice meal!