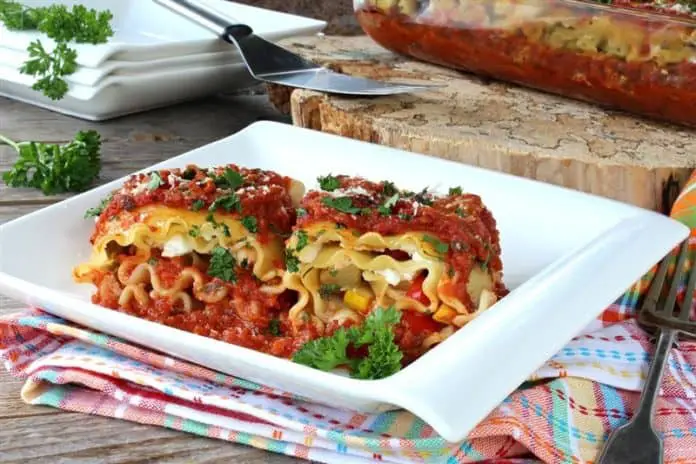 Vegetarian lasagna is a delicious dish of Italian cuisine, which is perfect for a dinner party. If you want, you can even freeze it and provide yourself with a delicious, fast and ethical dinner during the working week.The popularity of Italian lasagna has long gone beyond its historical homeland of Italy.
Today, this dish is very popular around the world largely thanks to the Italian immigrants to the United States, where the recipe spread across different cultures literally with the speed of a forest fire.
Vegetarian lasagna is a huge flat pasta, from which the dish of the same name is made-a layer cake with a variety of fillings.
The main difference between vegetarian lasagna recipes and the classic dish is, of course, the absence of animal ingredients.
They are replaced with juicy vegetables of almost all kinds.
In vegetarian and even more vegan dietary recipes, it is replaced with other, more suitable dressings.
Composition:
| | |
| --- | --- |
| Lasagna noodles — 8 plates | Finely chopped spinach — 2 cups |
| Low-fat cottage cheese — 1 Cup | Grated cheese-200 g |
| Spaghetti sauce-250 g | Salt and pepper to taste |
Preparation:
Cook the lasagna noodles in lightly salted water for 7-10 minutes. Mix finely chopped spinach, cottage cheese, half of the prepared cheese, salt, and pepper. Using a spoon, put the prepared mixture on the layers of noodles and wrap it in tubes. Place on a pre-greased baking tray with high sides. Fill the space between the rolls with tomato sauce, and sprinkle the remaining cheese on top. Bake in the oven at 200 degrees Celsius for 20-25 minutes.
Have a nice meal!