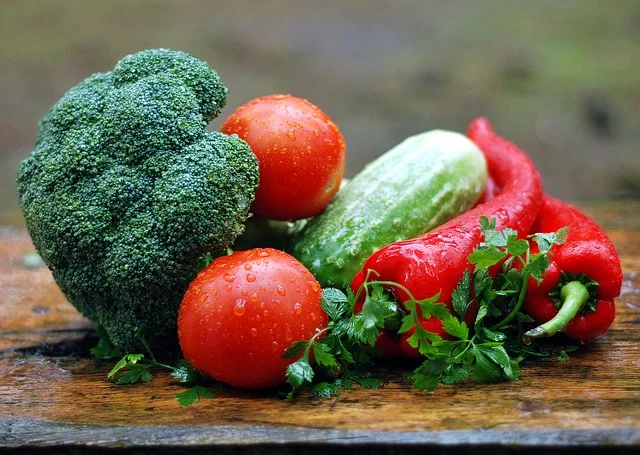 Vegetable-based Ayurvedic recipes for every day. In Ayurveda, "vegetarian cuisine from veggies" is not considered lean. You can find seven basic Ayurvedic vegetarian dishes made entirely of veggies here. Despite not including any meat, these dishes are the ideal way to sate and energize for the entire day. Each meal is also a treat for the senses.
Vedic meals benefit from the healthiness and sweetness of ghee. Nothing can take its place.
Making anything from scratch is preferable to purchasing it already produced. spices with a range of flavors. The paneer or adgean cheese work is for the jaw. There will still be something to chow down on even without meat! These foods don't utilize onions or garlic since those ingredients are unappealing. The spice asafoetida imparts an onion flavor that is fuller. Learn more about the flavors of Ayurveda here.
Paneer
Paneer is a key ingredient in Vedic cuisine. He resembles the "weighting" of a platter of light vegetables. It can be consumed alone, fried in ghee with spices, or combined with other foods. Paneer cooked at home turns out to be delicious. But Adyghe cheese can also be used in its place.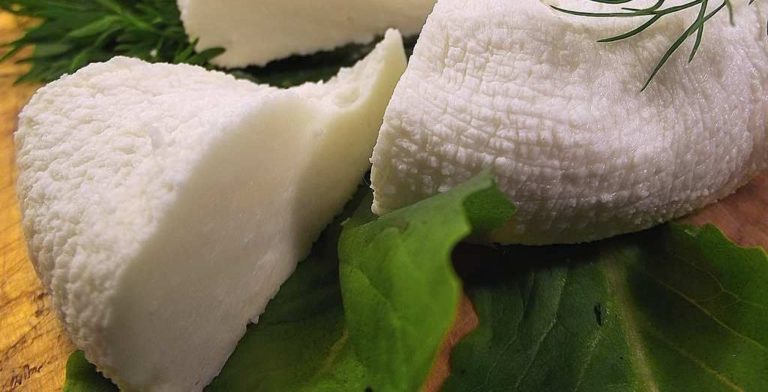 Ingredients
1l. milk, 0.5 l. kefir
Instructions
Bring to boil milk and kefir in a saucepan. The whey and cottage cheese will separate as a result of a "chemical reaction." Squeeze the mixture while it is strained through multiple layers of gauze. It will eventually become a rather solid, breakable white mass.
Vegetable stew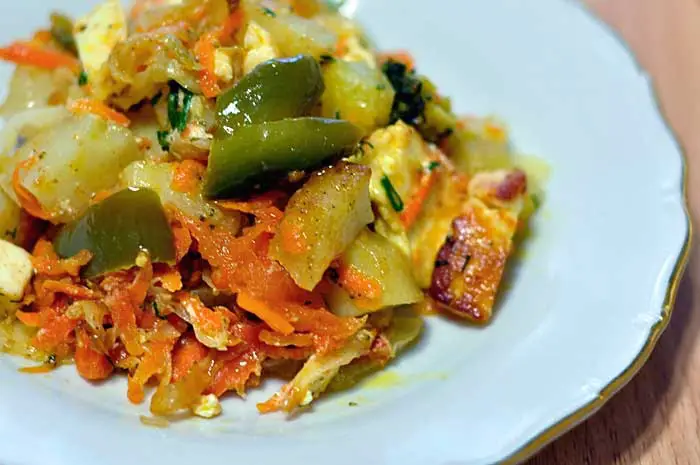 Ingredients
100 grams each of carrots, potatoes, cabbage, sour cream, paneer, 3 tablespoons of butter, asafoetida, turmeric, mustard seeds, coriander, curry powder, salt, and herbs.
Instructions
To make oils, we first toast mustard seeds in ghee, then add more spices and toast them as well. Carrots, cabbage, and potatoes are the order in which you should fry the veggies you've included. You can moisten the base with a little water. Add paneer or Adyghe cheese, sour cream, and greens at the very end.
Vegetables with tomatoes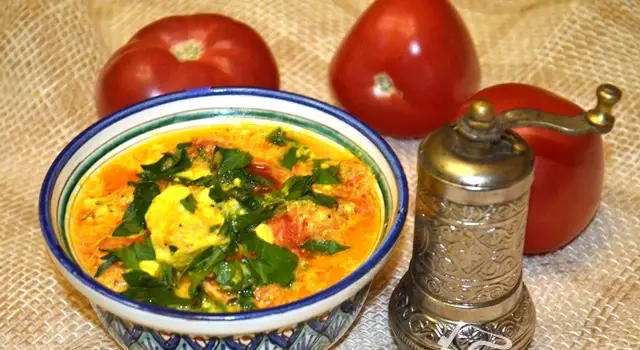 Ingredients
100 grams of carrots, 300 grams of cabbage, 100 grams of sweet pepper, 200 grams of tomatoes, 2 tablespoons of ghee, asafoetida, cardamom, turmeric, fennel, salt, and sugar.
Instructions
Ghee is used to sautéing the seeds and spices (cardamom and cinnamon are added at the end), then vegetables are added and cooked almost entirely in their own juice. White beans (lima), sour cream, yogurt, and a small amount of tomato paste are great for adding weight to this dish.
Spicy potatoes with cauliflower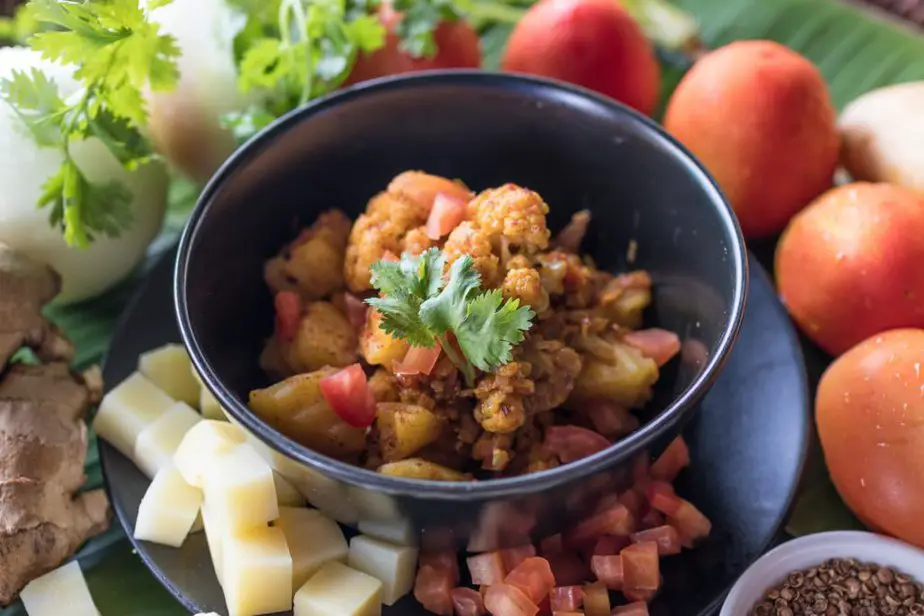 Ingredients
200 grams each of potatoes and cauliflower, together with butter, ginger, asafoetida, cumin, turmeric, and crushed coriander. tomato, fresh herbs, and lemon juice are optional.
Instructions
Peeled and cut into 6 pieces after baking. Ideally, we cook cauliflower for two people (so it retains more valuable properties). Put the vegetables in the ghee and cook the spices for a short while.
Paneer Malay (cheese in tomato sauce)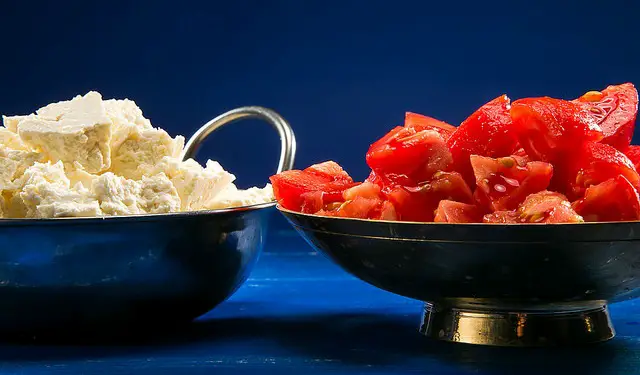 Ingredients
Paneer, 400 grams of tomatoes, 1 tablespoon of ghee, ginger, cayenne pepper, turmeric, asafoetida, cinnamon, salt, and sugar.
Instructions
Chop the tomatoes finely after peeling them (do this by briefly placing them in boiling water). In ghee, saute the spices (add cinnamon at the end). Stir in the tomatoes. We cook the tomatoes with the paneer after breaking them up.
Potato casserole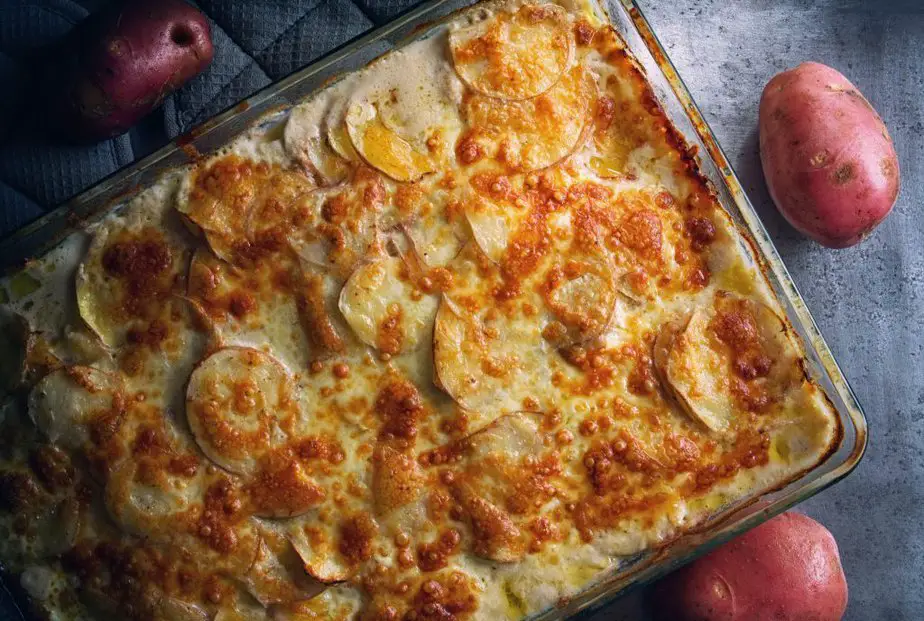 Ingredients
500 grams of potatoes, 200 grams of paneer, 200 grams of sour cream, three tablespoons of butter, and nutmeg.
Instructions
Slices of potatoes are made in a thin layer. To make the sour cream sauce, combine sour cream with other spices like curry, pepper, and salt. Combine the sauce and potato slices. We reserve some sauce to drizzle on top.
The paneer is crushed into crumbs. Divide the paneer and potato bulk into two equal halves. Potato, pepper, potato, and paneer are layered. Overtop, pour the sauce. Bake in the oven for golden brown results.
Vegetable cutlets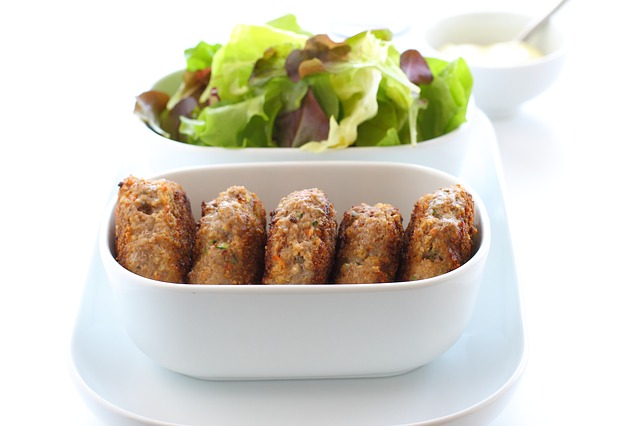 Any vegetables you currently have at home can be used to make these delectable cutlets.
Ingredients
Beets, radishes, cabbage, zucchini, carrots, potatoes, and any other vegetables you can find at home. You could consume a variety of vegetables. Pea or flaxseed flour serves as the cutlets' binder. Raw peas are an option (sprouted peas are very useful). Salt, asafoetida, coriander, turmeric, and you can add some bran when rolling the cutlets.
Instructions
Blend the ingredients, form cutlets, and then wrap in bran. Ghee-fry all sides in. You can use spices to make sour cream as a sauce.
These cutlets pair well with rice and make a delicious meal.