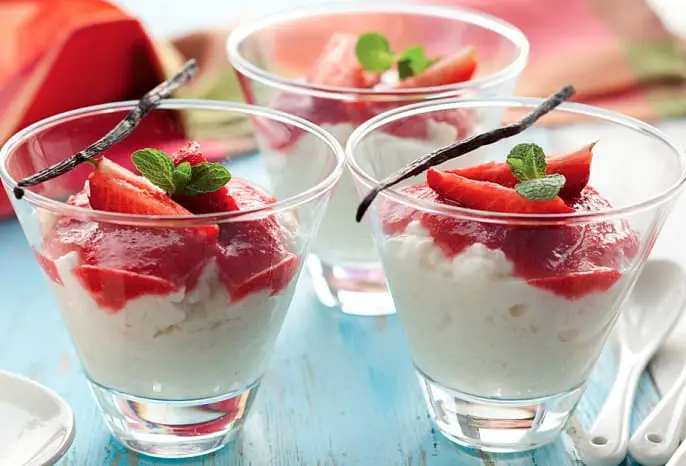 The first and last meal can be quite challenging if you're looking for something healthy and delicious. This is especially difficult for those who have eaten vegetarian food. But the Coconut and rice pudding recipe presented in this article may be what you're looking for.
Traditional rice pudding is high in both processed foods and fat. However, using coconut milk instead of regular milk, replacing white rice with brown rice, and removing the egg creates a healthier alternative. This recipe is healthier and delicious.
Composition:
| | |
| --- | --- |
| Milk-200 ml | Sugar cane – 3 tbsp. |
| Rice for risotto (Arborio) – 6 tbsp. | Grated fresh coconut or ready-made shavings – 6 tbsp. |
| Sauce: | Berries – 1 tbsp. |
| Sugar cane – 2 tbsp. | Water-1/4 tbsp. |
| Corn starch-1 tsp. | |
Preparation:
Bring the milk to a simmer. Add the sugar, rice and shavings, bring back to the boil, and cover. Cook over low heat, stirring occasionally (especially at the end of cooking) for 30 minutes (approximately, if the mixture is too liquid, then you need to cook for some time without a lid, constantly stirring to remove excess moisture). The mixture should resemble a thick rice porridge. While the rice is cooking, prepare the sauce. Pour the berries into a small saucepan and add water, bring to a boil and boil for 3 minutes. RUB the berries through a sieve to get rid of the seeds and pulp and return the sauce back to the pan and bring to a boil. Dilute the starch in a small amount of water (2 tablespoons of water) and pour into the sauce, stirring constantly, boil for 1 minute and remove from the heat. Arrange the pudding in the molds and cool in the refrigerator before serving.
Place on a plate and pour over the sauce.
Have a nice meal!