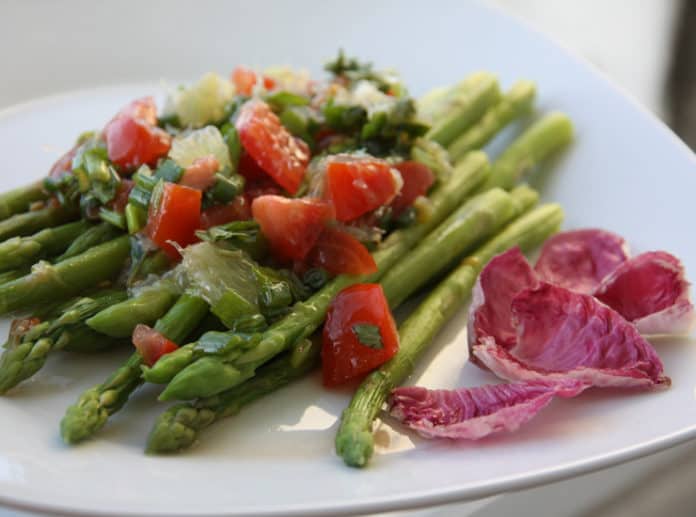 A dish with green string beans and asparagus. Green string beans rightfully took pride of place in the diet of everyone who strives to maintain health and carefully monitors their own nutrition. This plant is a real storehouse of vitamins, trace elements, and dietary fiber, thanks to which you can quickly improve digestion, get rid of metabolic problems, strengthen the nervous system, immunity, and vascular bed.
Fresh green string beans are an essential source of ascorbic acid, which helps to strengthen the immune system and resist pathological processes in the body.
The benefits of beans with vegetables for health when losing weight are almost invaluable. On the one hand, the plant is rich in vitamins, proteins, and complex carbohydrates, and on the other — it has excellent dietary properties.
Composition:
| | |
| --- | --- |
| Green beans-150 g | Green asparagus-150 g |
| Green peas in pods-150 g | Zucchini – 1 PC. |
| Spinach leaves-150 g | Pine nuts-50 g |
| Juice of one lemon | Melted ghee oil-2 tbsp. |
| Salt and pepper to taste | Liquid honey – 1 tsp. |
Preparation:
Trim the lower rough part of the asparagus and steam it with the beans and peas. Cut the zucchini into thin strips and bake in the oven in grill mode. Dressing: mix ghee oil with a fork with lemon juice and honey, season with salt and pepper. Combine all the elements, add pine nuts and spinach leaves, mix with the dressing.
Have a nice meal!