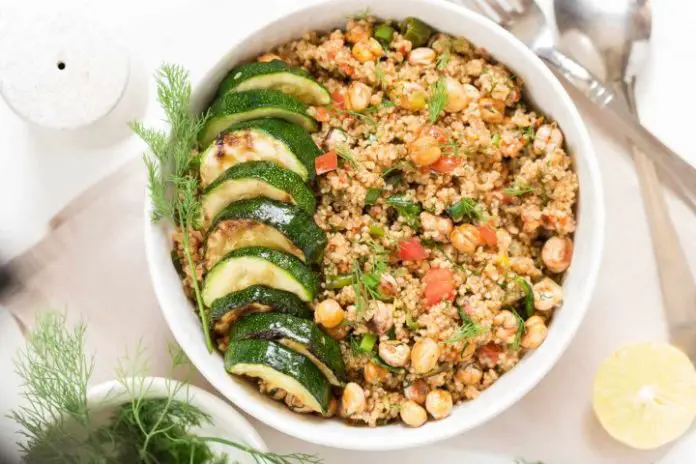 Quinoa with zucchini this dish is rich in protein quinoa groats will become even healthier, tastier, and juicier if you supplement it with baked zucchini with garlic. Zucchini are cut into thin circles and baked in the oven, and then mixed with boiled spicy quinoa, olive oil, and fresh herbs. Add a little pine nut to the side dish, and it will get a unique multi-faceted taste.
Composition and caloric content of cooked quinoa cereals
The nutritional content of 1 cup (185 g) of cooked quinoa is shown below:
Protein: 8 grams.
Fiber: 5 grams.
Manganese: 58% of the recommended daily value (RDA).
Magnesium: 30% of the RDA.
Phosphorus: 28% of the RDA.
Folate: 19% of the RDA.
Copper: 18% of the RDA.
Iron: 15% of the RDA.
Zinc: 13% of the RDA.
Potassium is 9% of the RDA.
More than 10% of the RDA for vitamins B1, B2, and B6.
Small amounts of calcium, B3 (niacin), and vitamin E.
Calorie content of quinoa: 1 cup (185 grams of cooked quinoa) contains a total of 222 calories, 39 grams of carbohydrates, and 4 grams of fat, and contains a small amount of omega-3 fatty acids.
Quinoa is non-GMO, gluten-free, and usually grown organically. Although it is not a grain, this crop is still considered a whole grain food composition
Composition
| | |
| --- | --- |
| Zucchini-400 g | A few sprigs of thyme |
| Parsley-bunch | Lemon juice |
| Pine nuts-30 g | Salt and freshly ground pepper |
| Butter | |
Preparation:
Zucchini cut into slices with a thickness of 4-5. Heat a large frying pan over medium heat, add the oil, zucchini, thyme, salt, and pepper. Cook for 10-15 minutes, stirring occasionally until the vegetables are soft.
Rinse the quinoa under cold water, add it to a pot of water in a ratio of 1:2 (quinoa: water) and salt. Bring to a boil, reduce the heat, and simmer for 12 minutes until the quinoa is soft. Drain and mix the quinoa with the zucchini. Add parsley, lemon juice, salt, pepper, and mix. Spread out in portions and sprinkle with pine nuts.